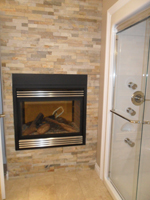 All Premium Plumbing & Heating Ltd also provides home renovations and repairs in Regina and the surrounding areas.
Whether your home is older, or even brand new, we have the expertise to diagnose & repair your problems correctly.
Our plumbers know that home renovations often require modification to your plumbing system. We can install sinks, toilets, tubs, showers, hot tubs, and more to suit your newly renovated home.
If your home or business has experienced water damage due to flooding or a burst pipe, our plumbing team can help. Using wet/dry vacuums, fans, and cleaning solutions, we will remove the excess water, dry carpeting and furniture, and prevent or remedy mold and mildew. We'll follow up with any repairs needed to prevent future water damage from occurring.
Duct Sealing & Air Balancing
Improve the efficiency of your heating system by minimizing air leakage. Whether your home is new or older, our experts can make your system work better.
Heat Recovery & Ventilation
You may require more adequate ventilation. A heat recovery ventilator will bring fresh air into your home. In winter months without cooling your house, an HRV can solve problems associated with humidity condensation, and even radon mitigation.